Split System Air Conditioner Installation Melbourne
Reverse Cycle Air Conditioning
Split system air cons are common in many homes and offices in Melbourne because they come in different capacities, sizes and designs. The most common systems are wall-mounted and require just an indoor and outdoor unit. Installation is fairly straightforward and can be done within a few hours.
A reverse cycle split system is a cost-effective and efficient solution for both heating and cooling since just one unit is required. This cuts down working and product costs, which is great on your budget.
Commercial Heating & Cooling
Domestic Cooling
Domestic Heating
Reverse Cycle Air Conditioning Installation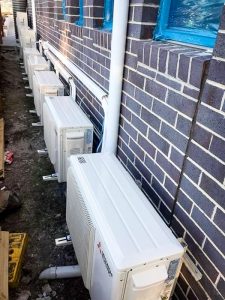 Swan Air Cooling can install reverse cycle air conditioning for homes and offices throughout Melbourne quickly and efficiently.
Where needed, we may do a no-obligation inspection of your space to make sure we offer the right solution for your needs. Our licensed installers will then install and organise all the connections to get the system up and running in no time.
Our reverse cycle air conditioning services are cost-effective and reliable across Melbourne, giving you complete peace of mind.
Features of Reverse Cycle Air Conditioning
Most economical forms of heating
Provide both heating and cooling
Remain cool or warm to touch at all times
No exposed elements or flames
Filter and dehumidify air
Why to Choose Swan Air Cooling for Reverse Cycle Air Conditioners?
Swan Air Cooling has over 20 years of experience in the air conditioning industry. We've seen products evolve over the years. This puts us in a good position to offer energy efficient and cost-effective choices most suitable to your needs.
From installation to servicing to maintenance to repairs, we have thousands of happy Melbourne customers who keep coming back – something we are extremely proud of. So, why choose Swan Air Cooling?
Over 20 years of experience serving the heating and cooling needs of Melbourne
Affordable prices with a 5-year manufacturer warranty
Excellent after-sales service with repair and serving solutions on offer
End-to-end solutions from supply and installation through to servicing
Customised heating and cooling solutions for any situation
If you're looking for a reverse cycle air conditioner for your home or office in Melbourne, give Swan Air Cooling a call and we'll provide you with a no-obligation quote.
How Do Split Systems Work?
Split aircon systems comprise of two units – one inside (fan coil) the house and one outside (condenser). During the cooling process, warm air is absorbed into the indoor unit and dissipated outside, which then results in cool air being pushed into the house. It works in reverse when heating, providing a warm indoor environment during winters.
Split system air conditioners are great for individual rooms or even for multiple rooms that are connected through ducts and piping to the outdoor unit. These types of multi-head split systems can be installed for several rooms at a time with just one outdoor unit. You can also temperature control of each individual room.
How a Split System works when cooling / heating your home: 
Why Choose Split Systems?
Split system air conditioners are common in many homes for a number of reasons –
Inverter Technology
Provides greater year-round comfort by maintaining constant temperatures, reducing energy consumption and running quietly.
Affordable
Most cost-effective solution for individual room cooling and are more energy-efficient to keep your long-term running costs low.
Independent Temperature Control
Temperature control is available for each individual room, giving you greater flexibility.
Air Quality
Come with humidity control and air filtering options to maintain good indoor air quality by keeping moisture and dust at bay, which is great for kids and seniors.
Multi-Head Split Systems
Enable different indoor units to connect to a single outdoor unit – a cost-effective solution for multiple rooms in your home or office.